While we're on the subject of scraps, I will confess that yarn wrapping hasn't solved all my scrap woes. I still have plenty of tiny little baby scraps leftover from not always following that "leaving a 6 inch tail" rule. I'm talking a few inches here, the kind of yarn scraps that fall on the floor and look like little fiber worms. I've been puzzled for a long time about what to do with those, since felting isn't really my thang.
But, aha! I think I might have stumbled on a solution. It all started when I came upon this yarn in PatysLoveys
etsy shop
.
I think this kind of yarn is gorgeous. It reminds me of a woven rug, the kind of yarn that I'd rather look at than knit with. What's amazing about this yarn is that it's spun with scraps! And they look all grown up.
I started thinking about how I could make my own yarn out of scraps, and surprise, surprise I am not the first person to think of this. Behold the yarn scrap balls from
Crochet Bug
below:
I've since been diligently square knotting my baby scraps into a nice little ball of yarn. The ball is almost grown up enough for the project I have in mind. Tune in on Saturday and I'll be sharing my yarn scrap project, complete with tutorial and free pattern! Woo hoo! Yay for scrap busting!
In the meantime, I probably should stop
whining about
my piddly little scrap collection. It's just a few bags worth, drowned out in the sea that is my yarn stash. It's not like it fills my backyard or house or anything.
It's not like GIANT HAY BALES made from yarn...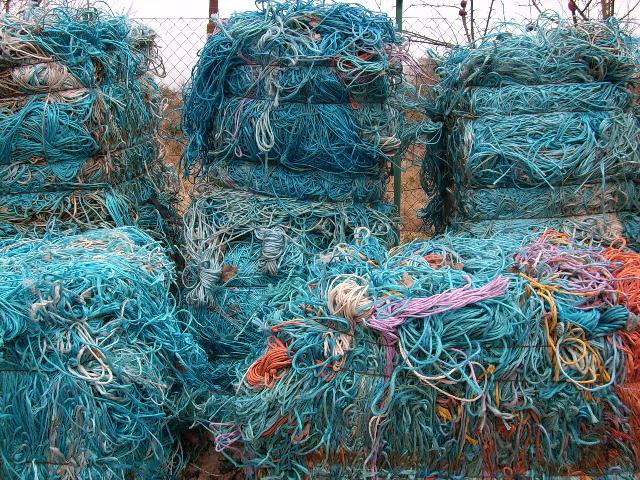 I'm still kind of in shock that these things exist.
I'll stick with the baby worm scraps, thank you very much.